Neutral kitchens are always beautiful. Having stainless steel appliances and or white subway tiles are some good classics. However, some people today are looking for something more alive and colourful. From colourful tiles to jewel-toned wall paint to bold cabinetry, you have plenty of ways to put a personalised touch on your cooking space. 
Adding colour to your kitchen is the most ideal way to change things up in the kitchen. There is no need for expensive renovations, construction, all you need is the right colour of paint, a brush, and some cherry-picked accessories. To help you create the dreamiest kitchen of your dreams, we've rounded up some of the most amazing colourful kitchen ideas and tips. 
1. Warm Marigold 
Marigold is definitely one of the most beautifully warm colours out there. You can utilize this colour in your walls and partner it with cool grey cabinets. The floor tiles can be in a darker grey shade for it to speak to the grey-toned cabinets. Meanwhile, you can have gold hardware to complement the yellow for a balanced overall look. For the same feel, you can choose yellow paint that's clean and vibrant but also rich enough to be warming. 
2. Peach Lacquer
Want a show-stopping kitchen? Then it's time that you don't get afraid of playing with colours. You may consider using blush pink/peach with deep aqua lacquered cabinets to get a reflective look, meaning, your space will feel bigger. This trick is also the same as the classic mirror trick, but colourful. 
3. Crimson Red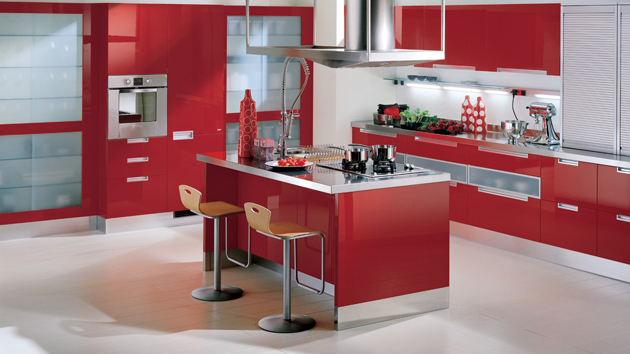 Red is a known warm colour that's believed to energize the appetite and is a remarkable choice for kitchens.  This colour is hugely versatile and it comes with numerous shades that would actually pop in a kitchen, whether you want to use it on the cabinets or the walls. If you want to be specific about which shade of red, crimson is our best pick. It has a rich texture material and brings a nice sultry feel to the room. 
4. Lavender 
If you want a kitchen that's unique but ageless, elegant yet humble, lavender is the answer to this. You can have a buttercream backdrop with swirls of lavender colours and have a blue chandelier also. And if you want to gove for the classic, you can use neutral cabinets as an island ground to space. 
5. Dark Navy
Having a colourful kitchen doesn't necessarily mean that you only use lighter colours. You can transform your kitchen into a moody masterpiece by using an emotive, inky shade of dark blue. Don't worry, your space won't look cold as long as you have wooden counters and backsplash to keep the space warm and casual while the dark paint just adds up for the intimate and cosy ambience. For some, it may appear totally blue, while for others it nearly looks black. 
6. Coral Pink 
Want to feel as if you're on a vacation all year long? Coral pink might be your next best friend in life. Paint your walls with a coat of happy pink paint and involve rattan and bamboo elements. Your kitchen will have that upbeat, quirky, and unique look without being too exaggerated. 
7. Bright Shining Yellow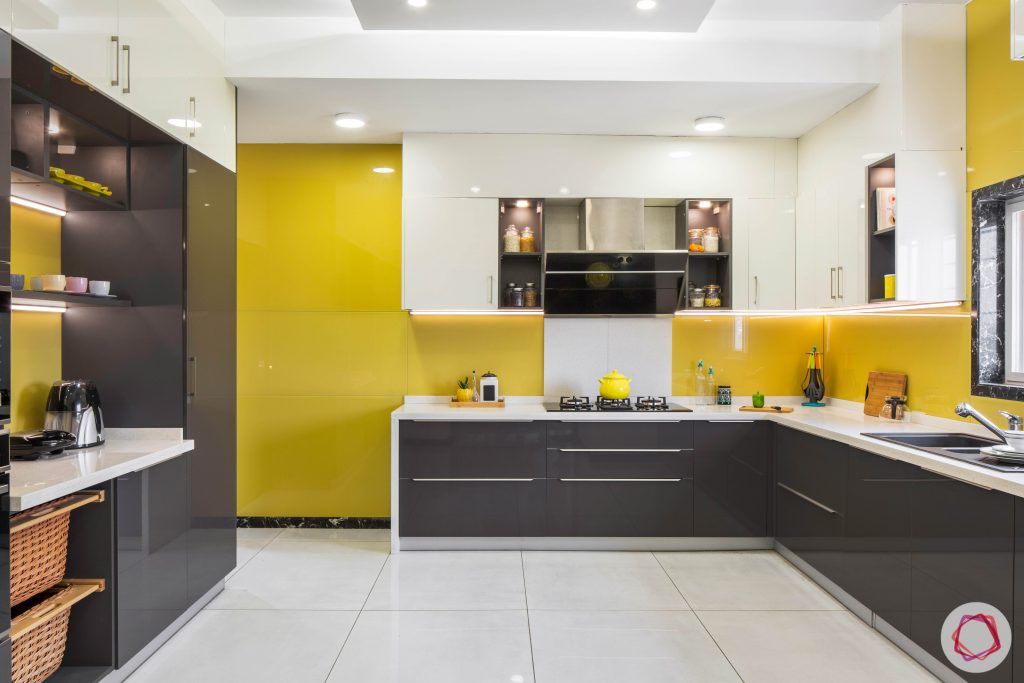 If you're too terrified to use bright yellow in your kitchen and not paint the whole room with it, here's a secret we'll share with you. You can have a super shiny yellow statement in your kitchen but installing a glossy yellow lacquered backsplash or back-painted glass. A pop of yellow in the kitchen will surely not fail you to have a cheerful room. 
8. Flamingo Pink
Have you always wanted to have a flamingo pink colour in your house? It's time that you use it in the kitchen. You may try using one colour for the walls and for the lower cabinets you may paint it with flamingo pink. The backsplash can incorporate both. After that, you may paint the trimmings on the upper cabinets with something fun too. You can place some yellow velvet dining chairs to make it more intriguing. 
9. Very Pale Blue 
Want to use the colour blue but don't know which shade? Well, you can and you don't need to cover the entire kitchen with it. You can utilize it just to be able to add a little pop of personality. Especially if the space is limited, you may designate a small corner wall for your accent colour. In your kitchen, you can use a powder blue accent wall and a sculpture and maintain everything else white and sparkling. 
10. Pale Mint Green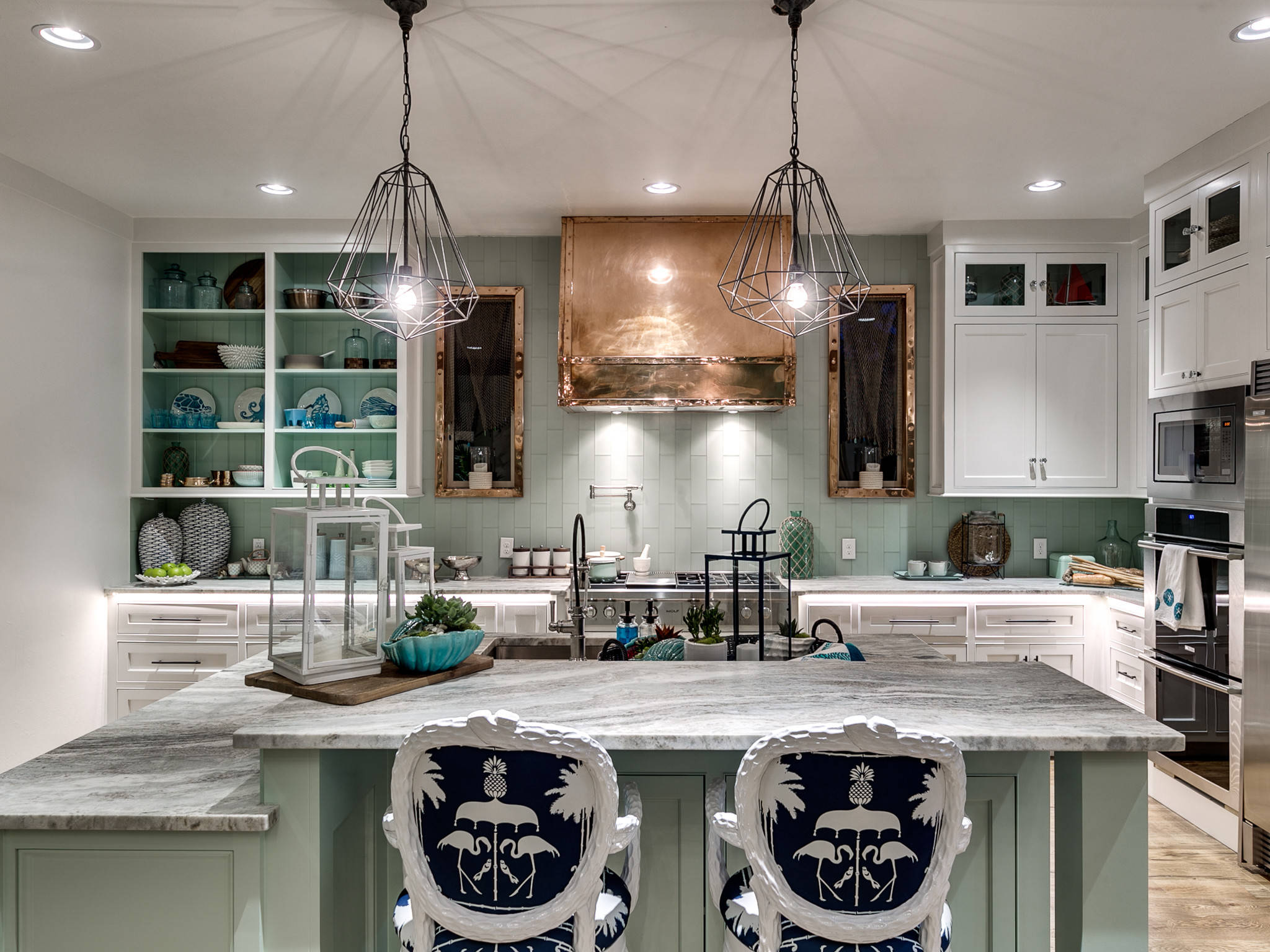 Not interested in having a classic island for your kitchen? A bistro table would be a great idea! It would be more breathtaking and fresher when you paint your bar stools with a crisp mint green shade and add some copper pendant light overhead that you can hang. 
If you liked this article of NowTodayTrending, make sure you share this to your social media and friends!